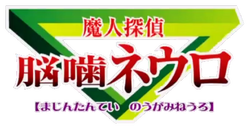 Welcome to the Neuro Wiki, an online encyclopedia dedicated to Majin Tantei Nōgami Neuro, the manga series created by Yūsei Matsui.
Since September 2008, there have been a total of 2,967 edits to 116 articles. Help us contribute!
Please be advised that the Wiki contains many spoilers relating to Majin Tantei Nōgami Neuro. Read at your own risk!
Please see below for important pages.
---
Series


The series of Majin Tantei Nōgami Neuro.

Characters


Characters of the series.

Universe




Universe of Majin Tantei Nōgami Neuro.

Community


Participate, it's fun.
---
About Us
·
Community Portal
·
Recent Changes
·
Images
·
Plot of the series
·
Templates
·
Wanted Pages
·
Help
Neuro Nōgami is a hell-born demon who feeds on "puzzles". Having devoured all of the Demon World's mysteries, decides to come to the Human World to feast on the puzzles offered by Humans, filled with negative energy from their planned crimes and forbidden emotions. As a demon, he must not make his presence noticed by the humans, and thus forms a partnership with the human Yako Katsuragi, making her act as the real detective while Neuro can go unnoticed as the assistant. Together they run a detective office in search of the Ultimate Mystery that will satiate Neuro's hunger.
Last Chapter:

Last Episode:

Official Websites:

Other Wikis:

Other Manga by Yūsei Matsui:
Upcoming Anime Highlights